Air Force Wives Welfare Association ( AFWWA ) celebrates its 62nd anniversary
Air Force Wives Welfare Association ( AFWWA ) celebrates its 62nd anniversary

AFWWA receives Guinness World Record Award for 'Knittathon' –making 41,541 knitted caps   in mere three months

Precision based participation of Sanginis (Air Force Wives) in 'Knittathon' is really commendable, Says Smt. Smriti Zubin Irani

Posted On: 15 OCT 2022 , Delhi
Air Force Wives Welfare Association ( AFWWA ) today celebrated its 62nd anniversary. To commemorate the occasion, AFWWA organised a cultural program at Air Force Auditorium, Subroto Park, New Delhi. Union Women and Child Development and Minority Affairs Minister, Smt. Smriti Zubin Irani was the Chief Guest on the occasion and Raksha Mantri, Shri Rajnath Singh also attended the event as the Guest of Honour. Mrs Neeta Chaudhari, President AFWWA was present on the occasion.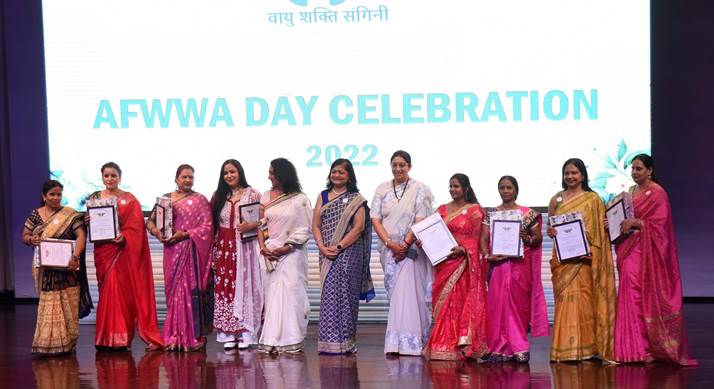 The event also marked the culmination of a special drive by AFWWA called 'Knittathon', wherein approximately 3,000 ladies (all AFWWA members) had collectively knit over 41,000 woolen caps over a period of three months. AFWWA has made the Guinness world record for making a huge quantity of knitted caps ( 41, 541 ) in mere three months. The Award was announced by the Adjudicator, Guinness World Record on the occasion. Mrs Neeta Chaudhari, President, AFWWA received the award on behalf of AFWWA.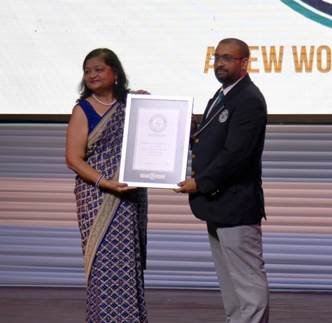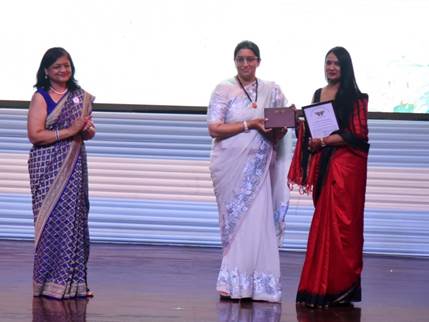 The awardees of Knittathon in different categories were also felicitated on the occasion by Smt. Smriti Zubin Irani.
Extending her greetings to AFWWA on the remarkable achievement, Smt. Smriti Zubin Irani said that precision based participation of Sanginis (Air Force Wives) in 'Knittathon' is really commendable. She said that its distribution to the underprivileged and poor by AFWWA will provide relief and solace to them. She also promised to contribute a knitted woolen cap to AFWWA to boost the moral of Sanginis.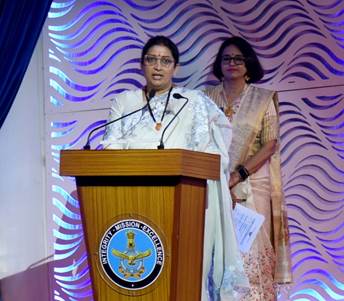 Mrs Neeta Chaudhari in her address stated that it is heartening that AFWWA has made a world record. She said, " the purpose of the effort is to help the underprivileged. All the members did their bit. The Guinness record is a pleasant by product. I am proud of being a part of it. And proud of AFWWA". She further said this has proved that focus and sheer dedication can make an ordinary housewife extraordinary. Knittathon became a community driven activity with an overwhelming response and revived the vintage art of knitting, She added.
'Knittathon' the unique idea of a special knitting drive, was conceptualised primarily to provide solace to the underprivileged and poor during harsh winter and to revive the age old art of knitting. In the process, the Air Force ladies were skilled with a productive art, thereby empowering them in a true sense.
These knitted caps will be donated to the homeless and poor of the country to provide them comfort during the coming winter months. Knittathon commenced on 15th July 2022 all over India and culminated today with the AFWWA Day celebrations.
Air Force Wives Welfare Association is the core welfare organisation for the families of the Indian Air Force. Empowerment of its members known as Sanginis, holistic development of the children, extending helping hand to the needy sections of the society are few of its primary objectives. The Association's contribution to the senior citizens, special children and orphans over the years deserves special mention.