Anurag Thakur reviews arrangements at International Media Centre, ahead of G20 Summit


Historic scale of event, Leaders' Summit will make history: Shri Thakur

"Media Center has world class facilities"
Posted On: 05 SEP 2023 , Delhi
Union Minister for Information and Broadcasting Shri Anurag Thakur today visited the International Media Centre to review the preparedness and arrangements ahead of the G20 Leaders' Summit. Bharat Mandapam will be the venue for the Summit, to be held between 9-10 September 2023 in New Delhi. During his visit, the Minister was given a walkthrough of MCR, Studio, PCR, PQR and social media room at the venue.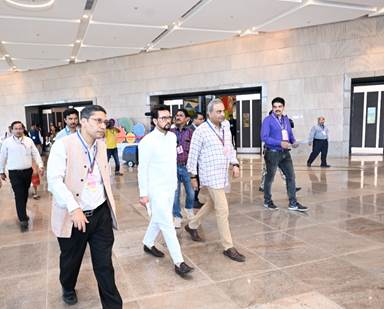 Speaking at the venue Shri Thakur said that India is excited to host the G20 Leaders' Summit. He informed that more than 200 meetings have taken place in over 60 cities across India, response during which has been overwhelming. He added that this was a historic scale of organization of an event and he was hopeful that the Leaders' Summit will make history.
Speaking about the arrangements at The International Media Centre, the Minister said that it has world class facilities and this showcases the power of New India. Art and culture pieces from India adorn the walls of the facility. The media centre is adjacent to the Bharat Mandapam where the summit will be held.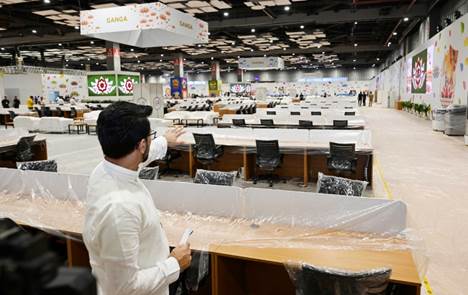 He further informed that the main media centre, the venue for press conferences is named Himalaya and can accommodate over 300 journalists. India is globally recognized for its digital payment system and this technological prowess will be showcased in the pavilions here, he added.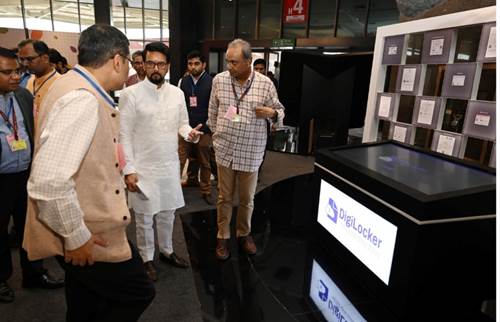 "India will flaunt her rich culture and heritage during the summit and at the same time put forth a lofty image of a New India", said the Minister speaking of India's projections during the Summit.
Stating that G20 will see the largest gathering of media personnel from across the world, the Minister extended a warm welcome to the media fraternity from across the world.
Appreciating Doordarshan for erecting an elaborate set up for the telecast of the event, he said that Doordarshan is playing a very important role with over 78 UHD and 4K cameras installed at various locations from airport to Bharat Mandapam. He added that clean feed will be provided to all media.
Background
Extensive arrangements have been made for facilitation of media at the venue
The Main Summit is going to be held in Bharat Mandapam and the International Media Centre (IMC) is being developed in its proximity at hall no. 4 and 5 of the International trade Promotion Organization (ITPO) Complex, New Delhi.
Official programs such as arrivals, departures, opening and closing ceremonies, bilateral meetings, (NGMA & ICAR) spouses' program, and engagements at Raj Ghat etc. will be covered only by DD and Official Foreign Media. Clean feed will be provided to all.
IMC has the capacity of hosting over 2000 media delegates with all sorts of facilities.
IMC will host all Domestic and Foreign Media including official media.
Only the accredited (Online accreditation provided after scrutiny of all those who registered) media personnels will be allowed entry into the IMC
The following facilities will be provided at IMC for all media personnel
Over 1300 work stations with internet connectivity and printer
High speed WIFI
International Broadcasting Centre (IBC): for clean feed from Bharat Mandapam, recorded by Prasar Bharati
Small Media Booths, One to One Interview Rooms
Media briefing rooms (Capacity of 100/50 for embassies and official Media): where foreign delegates will organize briefings
Live stand-up positions for reporting are available for Media
Media lounges
Information Kiosks
Help Desk
Medical Room
A variety of food options will be available
1400 parking facilities and over 80 shuttles buses will run between JLN and IMC
Furthermore, the following exhibitions will be open for media visits
RBI's Digital Innovation Pavilion in the foyer of Hall 3
Mother of Democracy (video ) Exhibition in foyer of Hall 5
Digital India Immersive Experience by MeITY in the foyer of Hall 4
There is a ODOP exhibition cum case inside ground floor of Hall 3
India is holding the G20 Presidency from 1 December 2022 under the theme of "Vasudhaiva Kutumbakam" or "One Earth · One Family · One Future"
Since then, nearly 220 meetings have been held in over 60 cities all over India with participation of 1000s of delegates from all over the world including from Member countries, invited countries and international organizations.
India's G20 presidency has been very special as we witness the spread of this mega confluence to every nook and corner of the country in the form of Janbhagidari. In India not just the government but all 140-crore people are the host.
This event will see one of the largest gathering of media, both global and domestic