Shri Arjun Munda holds an official interaction with New Zealand's Minister for Food Safety, Customs and Veterans Ms Meka Whaitiri

Posted On: 13 SEP 2022, Delhi
An official delegation led by the Minister for Food Safety, Customs and Veterans, and Associate Minister for Agriculture (Animal Welfare), and Statistics, Government of New Zealand, Ms Meka Whaitiri met the Minister of Tribal Affairs Shri Arjun Munda in New Delhi today. The High Commissioner of New Zealand to India, H.E. Mr. David Pine and Deputy High Commissioner of New Zealand to India Mr Brent Rapson were part of the delegation. Secretary, Tribal Affairs, Government of India, Sh. Anil Jha and senior officers of the Tribal Affairs Ministry were also present at the meeting.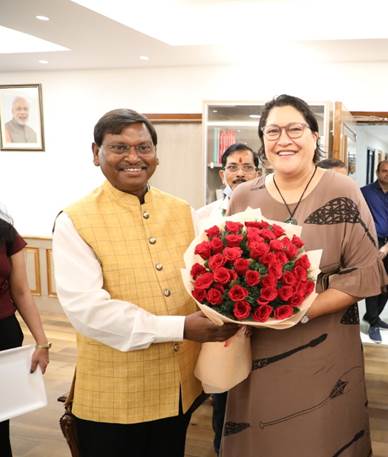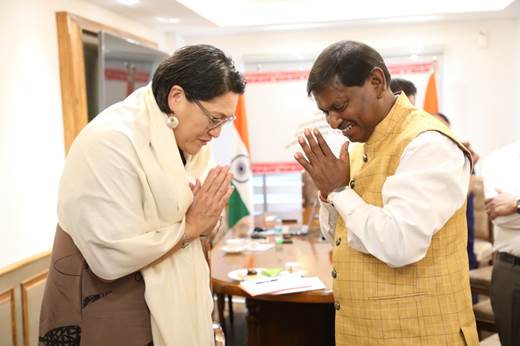 Being an indigenous Maori, Ms Whaitiri evinced keen interest in the tribal community of India especially with respect to empowerment of tribal women and their leadership roles in governance. Shri Arjun Munda and Ms. Meka Whaitiri discussed the various approaches of their respective Governments supporting the economic development and empowerment of Tribals of India and Māori of New Zealand. Ms Whaitiri laid emphasis on finding opportunities to step up exchanges and dialogue as an endeavour to build people to people relationships between the two countries particularly with respect to tribal communities of India and the indigenous people of New Zealand.
Ms Whaitiri's visit relates to New Zealand's desire to seek a broader relationship with India beyond trade and economic interests.