Centre launches Technological Advancements in Crop Insurance to Empowering Farmers and Streamlining Operations in PMFBY


Union Minister unveils manuals for YES-Tech, WINDS portal and insurance intermediary app for enrollment AIDE
Posted On: 21 JUL 2023 , Delhi
The Ministry of Agriculture and Farmers Welfare today launched several new technological initiatives under the Pradhan Mantri Fasal Bima Yojana to empower farmers and streamlining the operations. With the current launches, the relentless efforts of the Ministry of Agriculture and Farmers Welfare are now visible in the current tender cycle of 2023-25 and farmer enrolment during Kharif 2023, reflecting the commitment towards empowering farmers and safeguarding their livelihoods.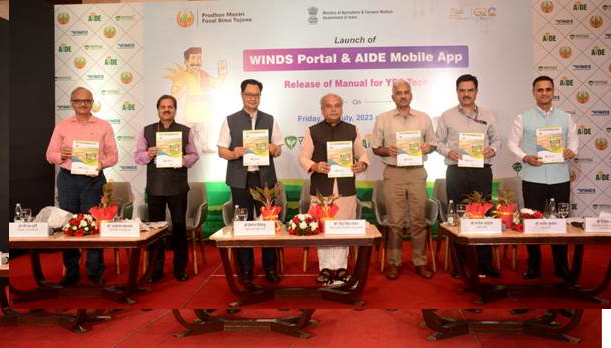 The grand launch event was held in New Delhi wherein Union Agirculture Minister Shri Narendra Singh Tomar and Union Minister for Earth Sciences Shri Kiren Rijiju launched several new initiatives under PMFBY and RWBCIS, such as YES-Tech Manual, WINDS portal and door to door enrollment app AIDE/Sahayak, marking a turning point in India's crop insurance landscape. The event also shed light on the remarkable achievements and transformative steps taken by the Ministry of Agriculture and Farmers Welfare to empower farmers and mitigate risks effectively.
Congratulating the department Shri Narendra Singh Tomar said that today every scheme is accessible to every farmer by using technology and farmers can take benefits.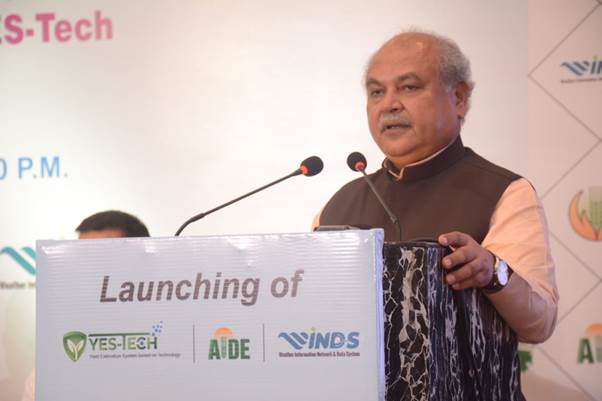 "With a view to make it more effective, the manual, portal and app have been launched today. We used to think that why the correct weather information is not available, even if the information is received, there was no means to convey it down to the bottom, so efforts were made to make it accessible to every village by using technology," he said.
Shri Tomar said there should be a rain watch tower in every village, weather stations can be set up at the development block level, so that the government can get precise information about the weather.
With the new tender cycle and ongoing enrolment, the efforts taken by the Ministry have now become visible. These significant achievements are a testament to the government's commitment to safeguarding farmers' livelihoods and promoting sustainable agricultural practices. The launch of YES-TECH manual and WINDS portal is a result of these steps, enabling accurate loss assessment and improved weather data management.
YES-TECH Manual is a comprehensive guide developed after extensive testing and piloting in 100 districts of India. It facilitates the implementation of YES-TECH, a technology-driven yield estimation system, offering methodologies, best practices, and integration insights for accurate yield assessments at the Gram Panchayat level. On the other hand, the WINDS Portal is a centralized platform that hosts, manages, and processes hyper-local weather data collected by Automatic Weather Stations and Rain Gauges at Taluk/Block and Gram Panchayat levels. The portal enhances risk assessment and decision-making in crop insurance, agriculture advisories, and disaster mitigation, supporting the agricultural sector and rural economy.
Minister of Agriculture also announced the delinking of subsidies, which is a groundbreaking step, ensuring that farmers receive their claim payments without waiting for State actions. The Centre will now release its share of subsidies independently, providing much-needed relief and financial security to farmers.
Unveiling the WINDS portal, Minister of Earth Sciences said that Shri Kiren Rijiju, Union Minister of Earth Sciences has called for adapting Agriculture to Climate Change with a "responsive and appropriate scientific mechanism.""Unless we are prepared to face the grave challenges, the consequences can be grave," said Shri Rijiju, speaking at the launch program of Weather Information Network Data Systems (WINDS) portal and AIDE mobile app and unveiling of Yield Estimation System, based on Technology (YES-TECH) Manual, in New Delhi today, 21 July 2023.
Shri Rijiju said all of us are witness to the impact of climate change on Agriculture. "In our childhood, apple crops grew in Shimla, a few decades later Kinnaur emerged as the apple growing belt and now apple crop is shifting towards the even higher altitude Lahaul-Spiti region," he said.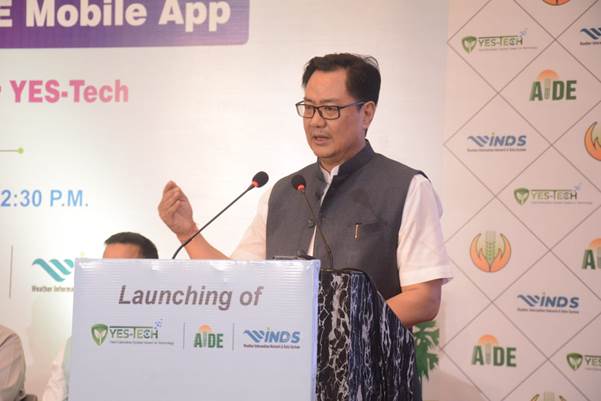 Shri Rijiju said, after the Green Revolution, amazing work has been done all-round in the last nine years under the leadership of Prime Minister Shri Narendra Modi and we have emerged as a leading nation in the Agriculture sector. Shri Rijiju said changes being made in the Agriculture sector through science and technology are very important. The importance of all these is even more in the era of climate change."Our scientists are doing very good work, it should be ensured that 100% utilization of their research should be done in all fields in the country," he said.
Union Agriculture Secretary Shri Manoj Ahuja, Director General of India Meteorological Department, Dr. Mrityunjay Mohapatra and CEO of Pradhan Mantri Fasal Bima Yojana (PMFBY) and Joint Secretary of Ministry of Agriculture, Shri Ritesh Chauhan also addressed the gathering.
One of the biggest accomplishments is the substantial cost-saving of 11,000 crores, reflecting the effectiveness of new initiatives. These savings provide the government with more resources to invest in farmers' welfare, ensuring a brighter future for the agricultural community. Moreover, the reduction in premiums, once as high as 17%-18%, now brought down to 8-9%, showcases the government's dedication to ensuring farmer-friendly policies.
The perception of excessive profits by insurance companies has been debunked, thanks to the models recommended by the Centre and adopted by the States, ensuring a more transparent and equitable system. Premium reductions are not limited to major states but are witnessed across all implementing states, with some now taking full responsibility for farmer premiums, further easing the financial burden on farmers.
The AIDE app's introduction on Android platform aims to revolutionize the enrolment process, bringing it directly to the doorstep of farmers. This door-to-door enrolment ensures a seamless and transparent process, making crop insurance more accessible and convenient for farmers.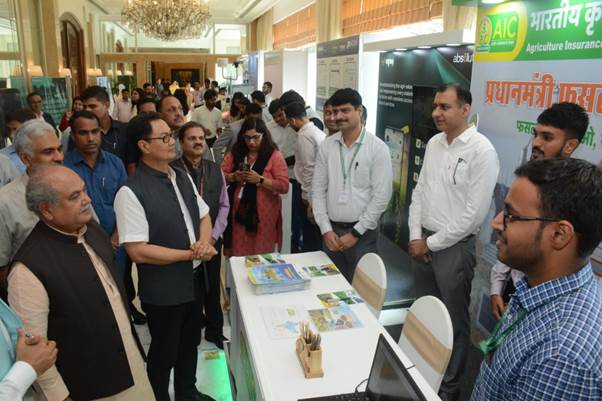 In conclusion, the PMFBY's launch event stands as a testament to the government's unwavering commitment to farmer welfare and agricultural growth. The strides taken in technological interventions, cost-saving measures, and enhanced accessibility reaffirm the scheme's goal of safeguarding farmers' interests and building a resilient agricultural sector in India.