Culture Ministry organises special programme to commemorate the 125th Birth Anniversary Year of Netaji Subhas Chandra Bose

Union Minister Dharmendra Pradhan pays tribute to Netaji in Cuttack
Posted On: 23 JAN 2021 , Delhi
The South Central Zone Cultural Centre, Nagpur under the Ministry of Culture today oraganised a special cultural programme under Ek Bharat Shresth Bharat Scheme to commemorate the 125th Birth Anniversary Year of Netaji Subhas Chandra Bose. On the occasion, Union Petroleum and Natural Gas Minister Shri Dharmendra Pradhan visited the birthplace of Netaji in Cuttack and paid floral tribute to the defiant patriot on his statue. Shri Pradhan then attended the cultural programmes organised as part of the celebration.
"I feel absolutely proud having got the opportunity to pay tribute to such a valorous and brave leader of our country, Netaji Subhas Chandra Bose at his birthplace. To take the saga of Netaji's struggle and sacrifices to the next generation, the Government of India has decided to celebrate Netaji's Jayanti as Parakram Divas from this year," Shri Pradhan said.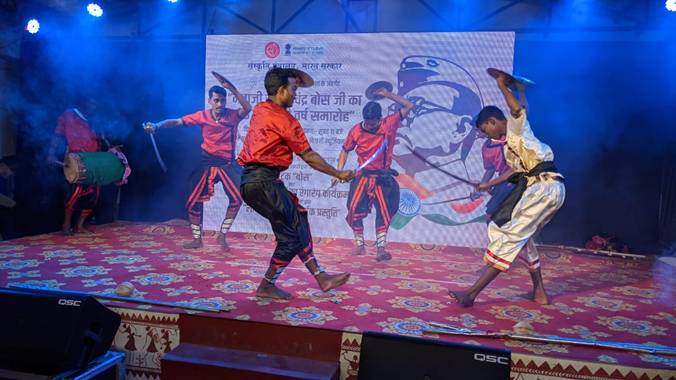 The minister said that Netaji has played a prominent role in Indian freedom struggle. "The words, 'Give me blood, I will give you independence' of Netaji had instilled a sense of patriotism in the youth of that time. Netaji is an epitome of courage, valour and sacrifice. Netaji's patriotism and valour will inspire the generations in the present time," Shri Pradhan said.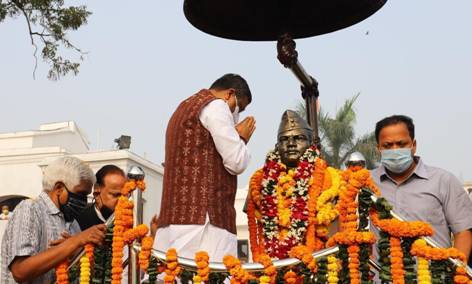 The Culture Ministry under the Ek Bharat Shresth Bharat organised special cultural programmes at 11 am today. As part of the celebration, a play named "Bose" and different patriotic songs and dance programmes were performed by Nagpur-based social organisation, Prayas. Similarly, Odia artists have also performed folk songs and dances during the celebration. The programme concluded with singing of the national anthem .
***