Delegates From States and Union Territories Reach the National Capital to Participate in the Finale Event of Meri Maati Mera Desh

Posted On: 29 OCT 2023, Delhi
For the finale event of Meri MaatiMeraDesh, delegates from 36 States and Union Territories are reaching the national capital through various modes of transport like specially dedicated trains, buses, and local transport to take part in a two-day programme at Kartavya Path/Vijay Chowk on 30th and 31st October. These Amrit Kalash Yatrisare staying at two camps- Dhanchiri camp in Gurgaon, and Radha Soami Satsang Beas Camp in Delhi.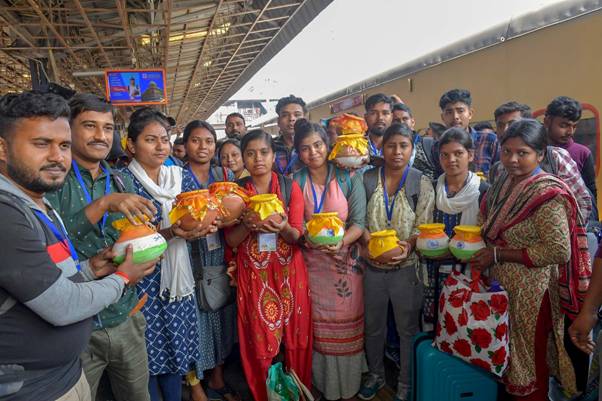 Delegation from West Bengal arrived in Delhi, carrying the AmritKalash with soil, to participate in the concluding ceremony of MeriMaatiMeraDesh campaign scheduled to be held on October 31, 2023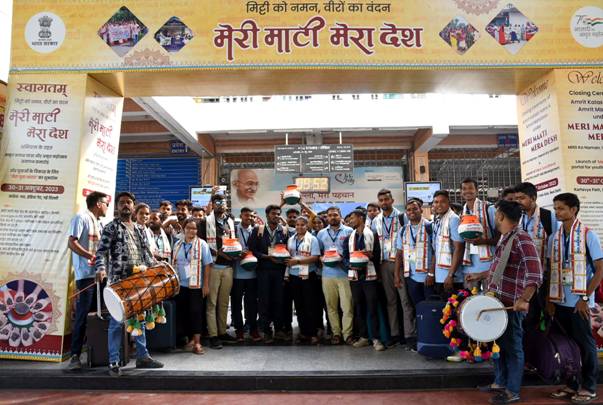 Delegation from Chhattisgarh, carrying the AmritKalash for concluding ceremony of MeriMaatiMeraDesh campaign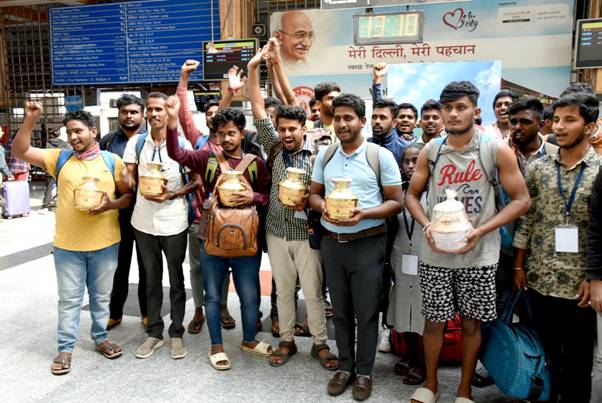 Karnataka delegation, infused with zeal, arrive at Hazrat Nizamuddin Railway Station, Delhi to participate in the final leg of 'Meri MaatiMeraDesh' campaign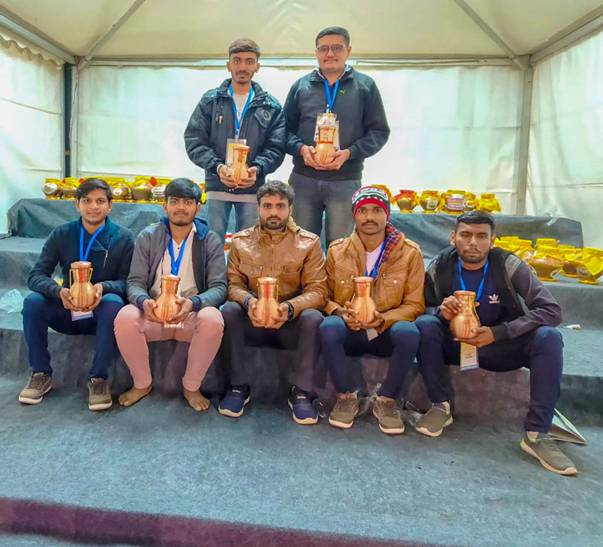 With the AmritKalash, delegation from Gujarat arrive at Delhi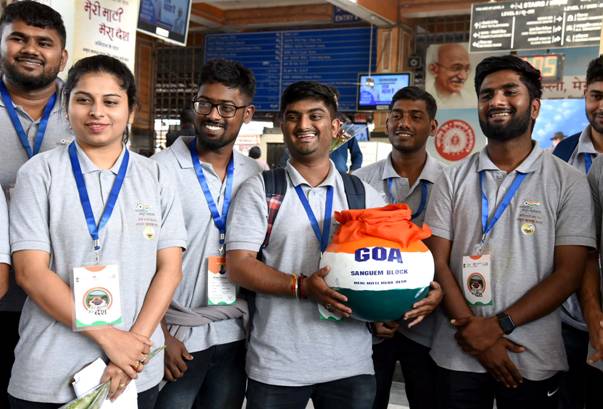 Delegation from Goa, carrying AmritKalash , arrived at Hazrat Nizamuddin Railway Station, Delhi to participate in the concluding ceremony of MeriMaatiMeraDesh campaign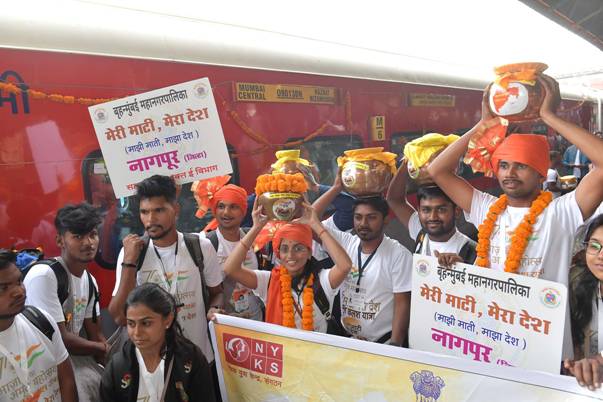 Maharashtra delegation with Amrit Kalash arrived at New Delhi Railway Station to participate in finale event of MeriMaatiMeraDesh campaign
Tomorrow, i.e., 30th October, a day long programme on "Meri MaatiMeraDesh" will be held in which participants from States and Union Territories would march in ceremonial attire at the concluding event of Amrit Kalash Yatra. Participants would arrive zone wise in batches at the venue. State wise programme to be conducted including patriotic songs and relay of choreographed cultural dance presentations in sync with representatives from State/UT coming up and pouring soil/rice from their State/UT Amrit Kalash into one giant Amrit Kalash reflecting the spirit of Ek Bharat Shreshtha Bharat at Kartavya Path. The programme is slated to begin at 10 A.M. and will go on till late evening.
Prime Minister Shri Narendra Modi willaddress the finale event of Meri MaatiMeraDesh campaign at Vijay Chowk/Kartavya Path on 31st October 2023. This event will mark the culmination of Meri MaatiMeraDesh campaign's Amrit Kalash Yatra in which Amrit Kalash Yatris from over 7000 blocks of 766 districts will be present. It will also mark the wrap of the two years long campaign of Azadi Ka Amrit Mahotsav which began on 12th March 2021 to celebrate the 75 years of India's independence. Azadi Ka Amrit Mahotsav has since witnessed more than two lakh programmes organized throughout the country with enthusiastic public participation.
This event will also witness the launch of autonomous body MeraYuva Bharat (MY Bharat) which will help in setting the focus of the Government on Youth Led development and to make the Youth "active drivers" of development. The aim of this autonomous body is to inspire youth to become community change agents and nation builders allowing them to act as the YuvaSetu between the Government and the citizens.
Union Minister Shri Anurag Thakur has said that 'Run for Unity' will be heldon 31stOctober. Shri Thakur stated that the 'Meri MaatiMeraDesh' program will end under the chairmanship of Prime Minister Shri Narendra Modi in Delhi.On that day, the MeraYuva Bharat portal will also be launched. It will provide a platform for the youth of the country where they can contribute to nation-building.