It is important for every policy to evolve, and learnings need to be taken into consideration to improve them, to achieve the goal of creating better health outcomes for the citizens of the country: Dr. Mansukh Mandaviya at Health Ministry 's Swasthya Chintan Shivir in Dehradun


Dr. Mandaviya urges States to increase spending on healthcare; Union Ministry ready to give adequate funds for Health Infrastructure

Swasthya Chintan Shivir should be made a regular practice to ensure health outcomes are consistently improved: Dr. Mansukh Mandaviya

Day 1 of Swasthya Chintan Shivir concludes with best practices and learnings in healthcare shared
Posted On: 14 JUL 2023 , Delhi
"It is important for every policy to evolve, and learnings need to be taken into consideration to improve them, to achieve the goal of creating better health outcomes for the citizens of the country." This was stated by Dr. Mansukh Mandaviya, Union Health Minister, as he chaired the Swasthya Chintan Shivir, in the presence of Prem Singh Tamang, Chief Minister of Sikkim, and Union Ministers of State for Health & Family Welfare, Dr Bharati Pravin Pawar, and Prof. SP Singh Baghel. Health Ministers including Shri Dhan Singh Rawat (Uttarakhand), Smt.Rajini Vidadala (Andhra Pradesh), Shri Alo Libang (Arunachal Pradesh), Shri Keshab Mahanta (Assam), Shri Rushikesh Patel (Gujarat), Shri Banna Gupta (Jharkhand), Shri Dinesh Gundu Rao (Karnataka), Shri Sapam Ranjan Singh (Manipur), Dr. R. Lalthyangliana (Mizoram), Shri Thiru Ma. Subramanian (Tamil Nadu) are participating in the brainstorming conclave. Shri TS Singh Deo (Deputy Chief Minister, and Health Minister, Chhatisgarh), Shri Brajesh Pathak (Deputy Chief Minister, and Health Minister, Uttar Pradesh), Shri BS Pant (Minister of Tourism and Civil Aviation, Sikkim), Shri Vishwas Sarang (State Medical Education Minister, Madhya Pradesh), Shri K Lakshmi Narayanan (Minister of Public Works, Puducherry) are also participating in the event.
Dr. Mandaviya further stressed the need for states to increase spending on healthcare, and said that the government of India will support states in this endeavor. He highlighted the progress made in the last one year since the previous Swasthya Chintan Shivir was held, and said that it should be made a regular practice to ensure health outcomes are consistently improved.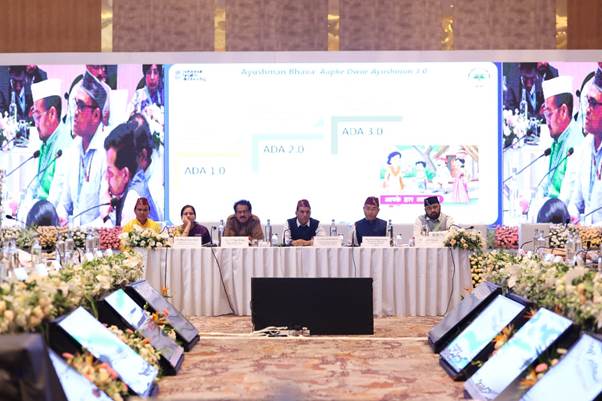 On day one of this two-day event, sessions were held on various verticals under Ayushman Bharat, including Ayushman Bharat-Pradhan Mantri Jan Arogya Yojana (PMJAY), Ayushman Bharat Digital Mission (ABDM), Health and Wellness Centres, and Pradhan Mantri Ayushman Bharat Health Infrastructure Mission(PM-ABHIM). The last session of the day focused on the role of Public Health Management Cadre.
The national conclave proved to be a platform for sharing of best practices, as well as learning across states in healthcare in India today. The deliberations focused on the implementation of PM-JAY, and the ABDM, and the gaps that need to be filled, with respect to diverse local conditions across states, and provisions for digital health literacy in the country. The national conclave presented an outlook of the health infrastructure to be created in India in the coming years under PM-ABHIM, and the role of the public and private sector in this regard was discussed.