RINL organises first ever National Vendor Interaction Program
RINL organises first ever National Vendor Interaction Program


RINL is committed for the growth of MSEs: Shri Atul Bhatt, CMD RINL


Posted On: 28 JAN 2023, Delhi
RINLVisakhapatnam Steel Plant organised the 1st ever "RINL NVIP-2023- National Vendor Interaction Program-2023 at Visakhapatnam steel plant, today .
Shri Atul Bhatt,CMD,RINL, inaugurated the progam along with Shri VV Venugopal Rao, Director (finance), Shri DK Mohanty, Director (Commercial),Shri AK Bagchi , Director(Projects & Operations) and Shri GVR Naidu, Additional Director-in-charge, MSM,DFO,Visakhapatnam.
The National Vendor Interaction program, organized for the 1st time by RINL ,has provided a useful forum for the Sellers to interact with RINL Management. Over 200 vendors from various parts of the country have actively participated in the program.
Addressing the vendors, Shri Atul Bhatt, CMD, RINL said that such vendor interactive programs would enable growth of both suppliers and RINL. He emphasized the need for strengthening the partnership between RINL and the vendors. "RINL & Vendors have a symbiotic relationship as the fortunes of both are interlinked" , Shri Bhatt added. He expressed that indigenization of imports spares is an immediate available opportunity for the vendors. Several measures taken by RINL towards indigenization has resulted in significant savings to RINL, Shri Atul Bhatt said.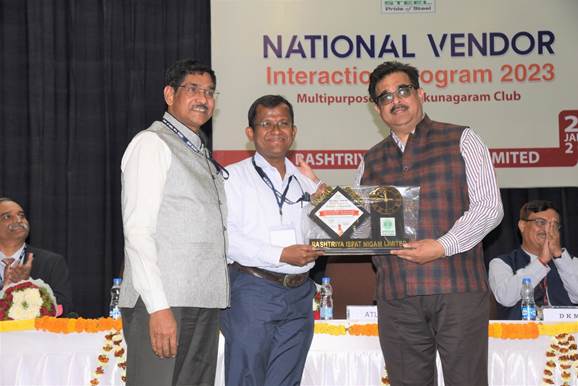 Shri Atul Bhatt complimented material management department of RINL for taking the initiative in organizing the National Vendor Interaction program.
Addressing the vendors, Shri D.K.Mohanty, Director (Commercial), RINL suggested the vendors to quote reasonably and stick to delivery schedules. "RINL is strictly following Govt of India guidelines on 'Make in India' & 'Atma Nirbhar Bharat' in the tendering process, Shri DK Mohanty said.
In his address, Shri GVR Naidu, Additional Director-in-charge, MSME- DFO, Visakhapatnam thanked the management of RINL for its measures in encouraging and supporting the MSEs, especially local MSEs.
Shri KVA Murali babu, GM (Materials management) department-I/c and head of the department highlighted the various benefits being extended to the MSEs, especially local MSEs. RINL has 3845 registered vendors of which 1863 including 21 women MSEs and 10 SC/ST MSEs. Out of 402 MSEs located in Andhra Pradesh, there are 228 registered local MSEs situated in and around Visakhapatnam steel plant.
In a presentation made Shri P.Vinodh, DGM(MM) outlined the opportunities open to MSE entrepreneurs and the efforts being made by RINL to empanel the SC/ST and women owned MSEs.
In their presentations to the vendors, Officials of Government e-marketplace (GeM), explained in detail about the process of registering in Government e-market place(GeM) and the advantages of improving business through GeM for both buyers and sellers.
National Small Industries Corporation (NSIC) and MSME officials in their presentation explained in detail about various Schemes and Programs offered towards Integrated Support to MSMEs.
Shri Atul Bhatt and other dignitaries presented mementos to best performing vendors on the occasion.
Senior officials from Works division, Purchase, Stores, Marketing, officials from various government and non-government institutions such as Government e Market place, MSME Facilitation office, National Small Industries Corporation (NSIC), District Industries Centre (DIC), Visakha Autonagar Small Scale Industrialists' Welfare Association (VASSIWA) ,Dalit Indian Chamber of Commerce & Industry (DICCI) etc., also participated actively in the program.