Union Minister Dr Jitendra Singh proposes "PPP+PPP" model in collaborations for sustainable StarUps; Underscores the importance of taking up programs that engage the industry upward
Union Minister Dr Jitendra Singh proposes "PPP+PPP" model in collaborations for sustainable StarUps; Underscores the importance of taking up programs that engage the industry upward


Dr Jitendra Singh calls for s for Mentorship and Partnerships with Public, Private sector, NGOs, Academia and Institutions to promote a culture of innovation and entrepreneurship in the country

The Minister was speaking at the MHLC Meeting on Atal Innovation Mission (AIM) in NITI Aayog, after the launch of Incubator Assessment Framework

69 Atal Incubation Centers (AICS) have been operationalized which have produced 2900 plus startups till date: Dr Jitendra Singh
Posted On: 20 FEB 2023, Delhi
Union Minister of State (Independent Charge) Science & Technology; Minister of State (Independent Charge) Earth Sciences; MoS PMO, Personnel, Public Grievances, Pensions, Atomic Energy and Space, Dr Jitendra Singh has proposed "PPP+PPP" model in international collaborations for sustainable Start-Ups and sustainable science ventures.
Speaking at the meeting of Atal Innovation Mission (AIM) in NITI Aayog, Dr Jitendra Singh underscored the importance of taking up programs that engage the Industry Upfront in activities like acceleration is vital, where the Industry can map the sector, tell us what are the gaps, and we work together to engage Start-Ups, a program to brand Indian innovations internationally.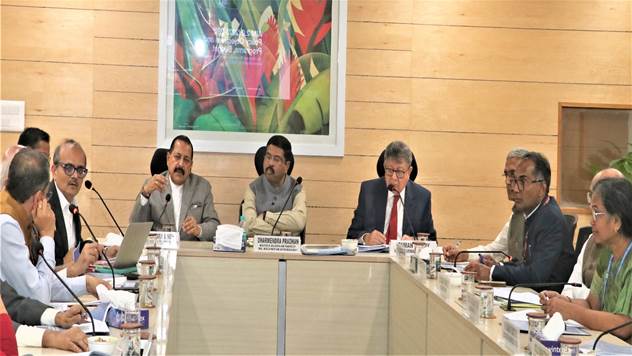 The collaborating governments on both sides, elaborated the Minister, can engage their respective private sectors to achieve sustainable goals. Commercialization of the output is essential to sustain it, he said. Any successful and replicable models we arrive at can help us move forward, he added.

Another vital aspect, said Dr Jitendra Singh said, is the Vernacular Innovation Program because many creative and innovative people in this country do not get a chance because of the language barrier and therefore, rising above English and Hindi, we could offer programmes in regional languages as well.
Dr Jitendra Singh also emphasized the documentation the journey of Start-Ups and innovators. Today, many scientists who set out to become entrepreneurs may succeed or fail, but we don't have a way to learn from their journey, he said.
The Minister also called for Mentorship and Partnerships with Public, Private sector, NGOs, Academia and Institutions to promote a culture of innovation and entrepreneurship in the country.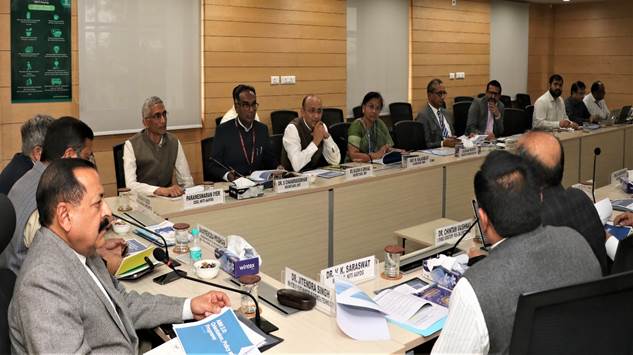 Dr. Jitendra Singh appreciated that AIM has taken a holistic approach to ensure creation of a problem-solving innovative mindset in schools and creating an ecosystem of entrepreneurship in universities, research institutions, private and MSME sector.
Dr Jitendra Singh underlined that to promote the benefits of technology-led innovation to the unserved/underserved regions of India including Tier 2, Tier 3 cities, aspirational districts, tribal, hilly and coastal areas, AIM is setting up Atal Community Innovation Centers(ACIC) with a unique partnership driven model wherein AIM would grant up to Rs 2.5 crores to an ACIC subject to a partner proving equal or greater matching funding. He said that till date, 14 ACICs have been established by StartUps across the country which are incubating 10. The target of establishing 50+ ACICs will be achieved by March 2023.
Dr Jitendra Singh appreciated that Atal Tinkering Labs are being established in schools nationwide with 10,000 operational in 700 districts and over 7.5 million students having access to ATLS. AIM shall also be establishment of 10,000 new ATLS in Jammu & Kashmir, Ladakh, North-Eastern states, Aspirational Districts, Himalayan and Island territories.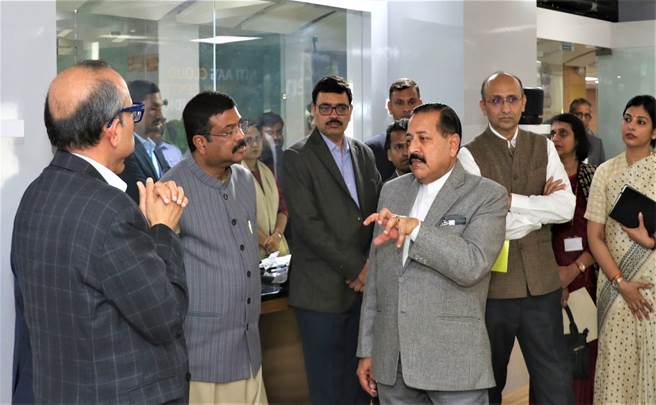 Referring to the Atal New India Challenge program, Dr Jitendra Singh said, it aims to suck, select, support and nurture technology-based innovations that solve sectoral challenges of national importance and societal relevance. The vision of the Atal New India Challenge (ANIC) is two-fold to help create products from existing technologies that solve problems of national importance and societal relevance (productization) and to help new solutions find markets and early customers (commercialization) in the context of India.
Dr Jitendra Singh pointed out that to enable all the initiatives to succeed, AIM has launched one of the largest mentor engagement and management program "Mentor India – The mentors of Change". To date AIM has over 10000+ registrations nationwide on the AIM iNNONET portal with 4000+ of them allocated to ATLS and AICS