Union Minister of State for Health and Family Welfare, Dr. Bharati Pravin Pawar inaugurates Regional Epidemiology Training Program National Conference of Southeast Asian Region
Union Minister of State for Health and Family Welfare, Dr. Bharati Pravin Pawar inaugurates Regional Epidemiology Training Program National Conference of Southeast Asian Region


Unveils the One India FETP Roadmap Document and CD Alert on Ebola Virus Disease

This training program will prove to be effective in consolidating the experience of Covid management: Dr Bharati Pravin Pawar
Posted On: 23 FEB 2023, Delhi
Union Minister of State for Health and Family Welfare, Dr Bharati Pravin Pawar recently inaugurated the Regional Epidemiology Training Program National Conference of Southeast Asia Region in the presence of Dr V K Paul, Member (Health), NITI Aayog at Rudraksh Convention Center, Sigra, Varanasi. The aim of the conference is to build skills and competencies in the field of epidemiology among medical doctors working in public health programmes, disease surveillance and health emergency management.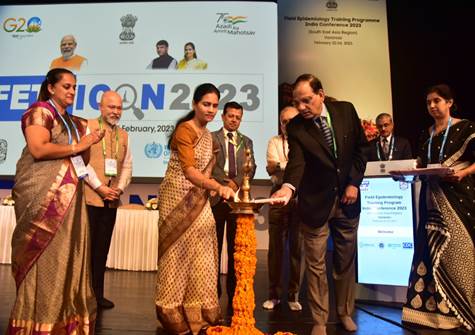 Stressing the need for epidemiology competency building, Dr Pawar praised the support of National Centre for Disease Control, India. She noted that public health workforce for outbreak surveillance and response have to be strengthened in India to realize the Hon'ble Prime Minister's vision of 'Ek Bharat-Shreshtha Bharat' and 'Bhavya Kashi-Divya Kashi'.
The Union Minister stated that "this training program will prove to be very effective in consolidating the experience of the Covid period. The panel discussions that take place in this conference and the outcome that emerges will play a very important role in formulating a policy plan". "A program to develop public health infrastructure is being organized which will strengthen and promote skill-building of public health workforce across the country", she further stated. She also said that a strong public health work force network is being prepared to deal with any kind of epidemic in future.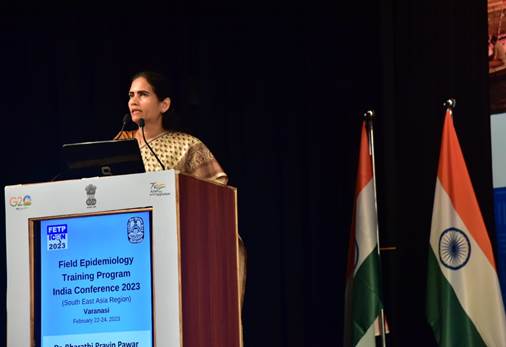 Dr. Pawar unveiled the One India FETP Roadmap Document and CD Alert on Ebola Virus Disease in the programme.
Highlighting the initiatives taken under the Ayushman Bharat Mission, Dr Pawar noted that screening for Diabetes, Hypertension, TB, Filariasis, Kala-azar, Dengue, Malaria etc. is being done in Ayushman Bharat – Health and Wellness Centres while tele-consultation service is also being provided since Covid-19. She also stated that "under the Pradhan Mantri Jan Arogya Yojana, Ayushman cards have been made for more than 5 crore beneficiaries across the country who can avail free treatment up to Rs 5 lakh in any state of the country". She also highlighted that "modern labs are being prepared under the Ayushman Bharat Health Infrastructure initiative and health records are being made available on mobile only under the Ayushman Bharat Digital Health Mission".
She also expressed her gratitude and appreciation for all the CHOs and ASHA workers who are playing an important role in providing primary health services at the community level.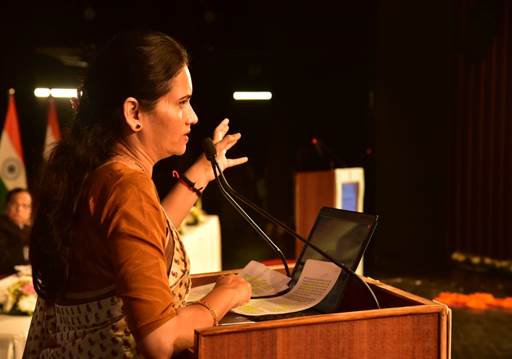 Dr. VK Paul, Member (Health), NITI Aayog, stressed on the eradication of Neglected Diseases (NTDs). He stated that "to establish and demonstrate India as the regional leader in public health workforce development for emergency preparedness and response in South East Asia, the conference will also focus on the successful implementation of strategic plans and responses of the Government of India during the COVID pandemic".
The three-day training program is being organized by the Indian Council of Medical Research-National Institute of Epidemiology (ICMR-NIE), Medical Health and Family Welfare Department, Uttar Pradesh, World Health Organization (WHO) and Center for Disease Control, India under the leadership of the Government of India and the State Government of Uttar Pradesh. This training program is being organized in collaboration with Centers for Disease Control and Prevention (CDC) USA. The National Control of Disease Center (NCDC) is the apex body coordinating this program.
This training program has been designed on the lines of the Skill India vision of the Prime Minister. This program was implemented from the year 2012 to 2020, in collaboration with the US CDC. In view of its usefulness during the Covid-19 pandemic, from the year 2021, this program is fully funded through the Prime Minister's Ayushman Bharat Health Infrastructure Mission, Government of India and is supported by the National Center for Disease Control (NCDC) and Directorate General of Health Services, Government of India.
Representatives from USA, Japan, Nepal, Bangladesh and Philippines including doctors, epidemiologists and scientists from 17 states of the country are participating in the programme. At present, more than 25 officers are undergoing this training in NCDC. More than 300 delegates from most of the state health departments, the Ministry of Health and Family Welfare and the Regional Epidemiological Training Program are participating in the three-day conference. The representatives have wide public health experience at National / State / District level.
​​Shri Partha Sarathi Sharma, Principal Secretary (Health), Government of Uttar Pradesh, Dr. Atul Goel, Director General of Health Services, Dr. Sujit Kumar Singh, Principal Advisor, NCDC and Dr Roderico H Ofrin, WHO Representative to India were also present on the occasion.